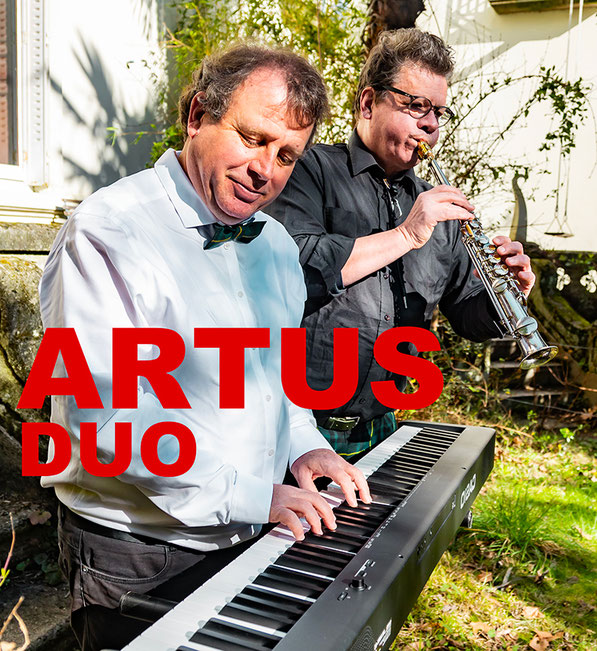 Music from Scotland & Ulster

Musiques d'Ecosse et d'Irlande du Nord
Pierre-Claude Artus : saxophones, mandole Langstaffe à 4 cordes, chant
                                   saxophones, Langstaffe 4 string mandola, vocals
Yann Le Long : piano, claviers
                         piano, keyboards
The Diamond reel suivi de Mrs Oswald of Auchincruive, deux morceaux composés par Robert Mackintosh (1745-1807)
Joués sur saxophone alto Conn "Ladyface" de 1934
The Diamond reel and Mrs Oswald of Auchincruive, composed by Robert Mackintosh (1745-1807)
Played on a 1934 Conn "Ladyface" alto saxophone
The ghost, composé par Liz Carroll, violoniste Irlando-Américaine (low whistle en fa)
James Dickie, reel composé en 1932 par J Murdoch Henderson
Jennie Hardie, reel composé par le violoniste Bill Hardie (1916-1995 - Aberdeen) pour sa femme
Joués sur saxophone alto Conn "Ladyface" de 1934
The ghost, composed by Liz Carroll, Irish-American violonist and composer (played on an F low whistle)
James Dickie, a reel composed in 1932 by J Murdoch Henderson

Jennie Hardie, a reel composed by Aberdeen fiddler Bill Hardie (1916-1995) for his wife
Played on a 1934 Conn "Ladyface" alto saxophone
Brose and butter, publiée pour la première fois en Ecosse au début 19e
Port Luascach N° 3, composée par Marc Pollier (uillean pipes)
A whip at the Whigs (ou Will you come down to Limerick) traditional irlandais  

Brose and butter, first published in Scotland in the early 19th century
Port Luascach N° 3, composed par Marc Pollier (uillean pipes)
A whip at the Whigs (or Will you come down to Limerick), Irish traditional
Played on a Selmer Mark VI soprano saxophone
3 reels :

Bacon allocation, d'Anna Massie, guitariste, violoniste et productrice de radio de Black Isle.
Maggie's pancakes, composé par Stuart Morrison du groupe Tannahill weavers.
Reel of Sceachog, composé par John Brady, violoniste de Tullamore.
Joués sur saxophone alto Conn "Ladyface" de 1934
Bacon allocation,  by Anna Massie, guitarist, fiddle player and radio producer from the Black Isle.
Maggie's pancakes, by Stuart Morrison (Tannahill weavers).
Reel of Sceachog, by John Brady, fiddle player from Tullamore.
Played on a 1934 Conn "Ladyface" alto saxophone
Will you go Lassie, go? Enregistrée pour la première fois par Francis McPeake (Belfast) en 1957.
Pat the budgie, reel composé par Graham Townsend, fiddler de l'Ontario (CA).
The new year's in,  reel enregistré par Vincent Griffin (co. Clare)

Will you go Lassie, go? First recorded by Francis McPeake (Belfast) in 1957.
Pat the budgie, a reel composed by Graham Townsend, Ontario fiddler.
The new year's in, a reel recorded by Vincent Griffin fiddler from co. Clare in 1977.
Played on a 1934 Conn "Ladyface" alto saxophone
La Valse chinoise,  composée par Jo Privat (1919-1996) et enregistrée pour la première fois par lui même en 1947.
Jouée sur saxophone alto Conn "Ladyface" de 1934
Chinese waltz, composed by Jo Privat (1919-1996), the first French Musette accordion player to mix with Gypsy (Django style) guitar players
Played on a 1934 Conn "Ladyface" alto saxophone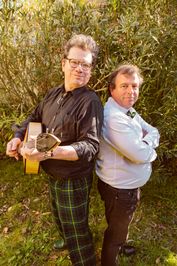 Ma pratique des musiques écossaises et irlandaises débute à l'adolescence avec l'acquisition d'une cornemuse écossaise - Great Highland bagpipes - pour s'étoffer par la suite avec le banjo puis le saxophone dans des contextes variés.

En 2019, j'ai accompagné 8 cornemuses écossaises au saxophone alto pour une série de festivals.
Cette expérience de transposition a motivé mes recherches sur les répertoires écossais et irlandais de cornemuse et de violon adaptables à un instrument virtuellement absent de l'instrumentarium traditionnel.

Mes saxophones - Alto Conn de 1934 et Soprano Selmer Mark VI de 1976 - acclimatent des sons inédits et leur phrasé impulse le swing original qui sous-tend nos interprétations.
Le mandole 4 cordes fabriqué par John Langstaffe (http://www.langstaffe-violins.co.uk/index.html) offre un accès aux répertoires écossais de mandora, cittern, English guittar, luth et violon des 16e au 18e siècles et permet d'interpréter les danses actuelles.

Dès la fin du 17e siècle et pendant tout le 18e, des musiciens et compositeurs italiens ont  séjourné, enseigné, joué et dirigé à Londres, Edinburgh et Dublin.
Ils ont arrangé des thèmes écossais, composé des musiques hybrides et influencé de nombreux musiciens locaux qui ont à leur tour produit de nouvelles musiques métisses.

Certains morceaux de ces compositeurs sont passés dans le répertoire populaire traditionnel.
C'est dans ce contexte que je les ai appris, et c'est avec sa saveur dansante et festive que nous tenons à interpréter ces chefs-d'oeuvre méconnus.


Yann Le Long, pianiste de formation classique, compositeur éclectique, arrangeur, chef d'orchestre, a pratiqué le jazz et les musiques traditionnelles avec notamment Roland Becker.
Il apporte un soutien rythmique et une expertise harmonique qui renouvelle les standards.
De morceaux de l'ére Baroque à des compositions contemporaines, nos morceaux choisis panachés de chansons dessinent une carte de métissages guidés par une sensibilité commune et portés par l'innovation saxophonistique.
•••
   My practice of Scottish and Irish music started in my teenage years, with the purchase of a set of Highland bagpipes, then extended to the banjo and saxophone in varied contexts.

In 2019, a group of 8 bagpipers asked me to accompany them on the alto saxophone for a series of festivals.
This transpositional venture inspired me to research Scottish and Irish pipes and fiddle repertoires for tunes suited to the saxophone, an instrument seldom used in these fields.
  
My saxophones, a 1934 "Ladyface" Conn alto and a 1976 Selmer Marl VI Soprano acclimatize unusual sounds. Their phrasing is at the root of the original swing that grounds our interpretations.
 John Langstaffe's (http://www.langstaffe-violins.co.uk/index.html)  4 string Mandola allows us to play 16th to 18th century mandora, cittern, English guittar and lute repertoires as well as contemporary tunes.
From the late 17th century and through the 18th, Italian musicians and composers have stayed, taught, played and directed in London, Edinburgh and Dublin.
They arranged Scottish tunes, composed hybrid music and influenced many local musicians to produce new mixed musical idioms.
Some of their tunes have seeped into the traditional popular repertoire. I learned them within this context and its festive flavor is central to our interpretations of these little know masterpieces.
Yann Le Long is a classically trained pianist, an eclectic composer, arranger and director who also played jazz and traditional music, notably with Roland Becker.
His rhythmic support and harmonic expertise provide a subtle and innovative backbone.
From Baroque era compositions to contemporary tunes, our selection, assorted with a few songs draws on shared sensibilities and saxophonistic innovation to instill our very own brand of fusion.